ASC Editor Ver. 3.1
---
This is the ASC editor that I created to make the StepUp and StepUp2 plugins and most of my Nationals. You edit the SX ASC file like a spreadsheet. You can highlight a range and do several operations on that range. You can scale, displace, rotate, and set a value to that range. It has the ability to convert an SX track to a National Displacement Map and Texture.
ASCEdit version 3.1 is shareware. If unregistered, the SX to National conversion process works in demo mode only and the ability to save a National ASC is disabled. All other features are fully functional. Once registered you can convert an MCM 1 SX track to a displacement map and texture. These can then be used in either Motocross Madness 1 or 2.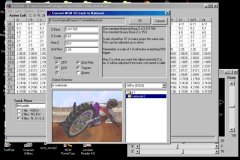 Here is a list of some Nationals that have been created by converting SX tracks.
Hell Hole and Hell Hole SE
StepUp2 Go'n National and StepUp2 Go'n Large
USSX Open 1999
Twisted Hill
Danger Island
6 Minute Scramble
Cool Cats
Baatk's Backyard
Ironman MX Park
Hang On
AMA - Fire Road
Baatk's Arena Cross
Atlanta SX
and many more
Here is a list of some MCM 2 tracks that have been created by converting MCM 1 SX tracks.
Joy of SX 2
New England SX
DirtTwister's SX Round 1
DirtTwister's SX Round 2
DirtTwister's SX Round 3
DirtTwister's SX Round 4
DirtTwister's SX Round 5
BaatKips SX 2000 - Remake
You can learn more about my SX conversions here.
Check out the Help file and FAQ.
---
Download
ASC Edit is written in Visual Basic 6.0 and requires the
This section no longer applies because, since MCM 1 is so old, I have decided to make the full version of this program freely available. You can download a serial number file here. Just unzip it into the same folder that you installed ASCEdit into.